Building your Tech Future
Development & Programming
Unlock the full potential of your business with our comprehensive package of development and programming services. Sway Power Consulting leverage the power of technology to help your business thrive. We believe in a client-centric approach, where we put your unique needs at the forefront. Our commitment is to deliver high-quality, budget-friendly solutions that align with your timeline, allowing you to stay ahead of the competition.
Dedicated people to help you strive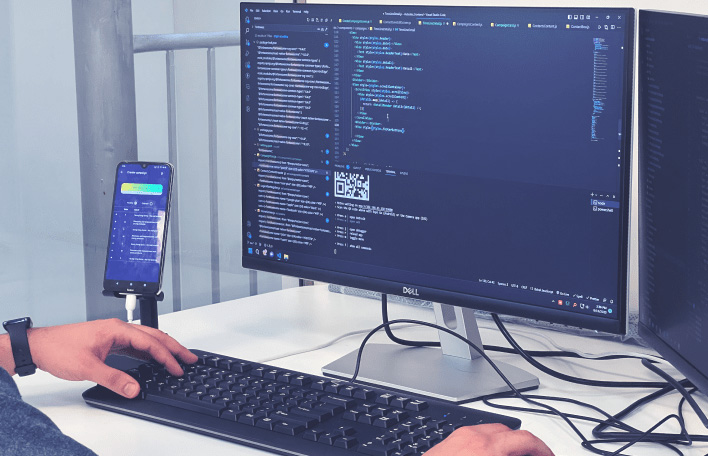 Our experienced developers and programmers are equipped with the skills and knowledge to bring your ideas to life.
We are passionate about using our expertise to help you achieve your business goals.
Elevate your business with our expert services. Contact us today… we're excited to collaborate!
We provide professional website design and development services, crafting visually stunning, user-friendly, and fully responsive websites that will set you apart from the competition.


With our web application development service, we create custom applications tailored to your business processes, enhancing efficiency and user experience.
This is an opportunity to connect with your audience on a more personal level. By sharing behind-the-scenes glimpses of your business, responding to comments and messages, and engaging with your audience in a friendly and authentic way, you can build a strong relationship with your followers. This can help to foster a sense of community and loyalty among your audience, ultimately leading to increased engagement, brand advocacy, and customer retention.
From ideas to real solutions.
Our team designs and develops mobile apps that provide an intuitive user experience, helping you to reach your customers directly on their smartphones and other mobile devices


We specialize in creating high-quality mobile applications that run seamlessly on multiple devices. Our team of expert developers leverages the power of cross-platform technologies to deliver exceptional results. With our expertise, you can maximize your reach and impact by targeting both iOS and Android users with a single codebase.
Streamlining your operations.
At Sway Power Consulting, we offer a comprehensive database design service tailored to meet the unique needs of businesses across various industries. Our team of skilled database engineers and designers is dedicated to delivering solutions that are not only robust and scalable but also highly efficient in managing your valuable data.
We also specialize in helping businesses migrate their data from file systems to robust, secure, and efficient database solutions. Our team of experienced professionals is dedicated to ensuring a smooth transition from outdated file-based systems to modern database architectures. And if your business needs it we can take your current database system and scale it to your needs of efficiency and business rules.
Automating your connections
At Sway Power Consulting, we specialize in developing robust and scalable APIs (Application Programming Interfaces) that empower businesses to connect, integrate, and share data across platforms, systems, and applications. Our API development service is built on a foundation of performance, scalability, cross-platform access, and security, ensuring your business stays ahead in the digital landscape.
Reliability & Scalability
We offer top-notch Quality Assurance (QA) services to guarantee that your applications meet the highest standards of performance, reliability, and user satisfaction. With a meticulous focus on both design and production environments, our QA team inspects every aspect of your applications, leaving no stone unturned. We will also implement the solutions that solve this issues aiming for flawlessness and stableness.
Optimizing your IT operations.
Our software consulting service is anchored by a team of exceptionally skilled and qualified software engineers. With their deep knowledge and understanding of the latest technologies, programming languages, and industry best practices, our engineers are equipped to tackle the most complex software challenges.
First month completely FREE!
NO CONTRACT – NO PAYMENTS
For more information about our management service solution and IT support, just give us a call.